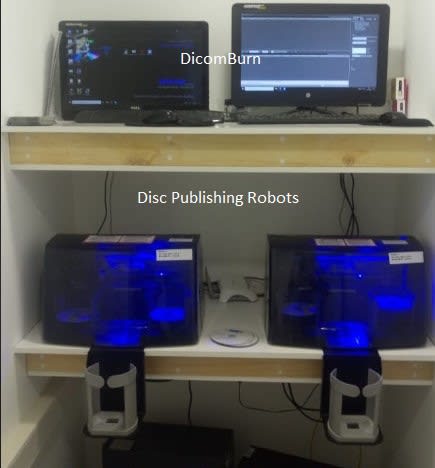 DicomBurn standalone setup. Controls at PACS, Imaging modalities.
Nativate DicomBurn
Least expensive patient imaging disc production and labelling system.
DICOM push or query/retrieve studies from diagnostic imaging modality, PACS workstations.
Create open compliant medical image archives to distribution.
Control disc recording at imaging rooms.
Multiple media publishing options:
Auto Labelling
Integrate most models of Epson and Primera disc printers. Create custom designed patient labels and auto-print imaging & study information.
DICOM Viewers
Include existing portable DICOM viewers of choice. DICOM viewers that supports standard DICOMDir should be available for recording.
Disc Settings
Automatically pick disc types (CD, DVD, DVD-DL) based on defined archive size limit. This option is available on dual drive disc producers.
DICOM disc production
Auto labelling reduces time, manpower compared to traditional film printing. Auto labelling feature require Epson Discproducer or Primera Disc Publisher. Disc printers hold many clean discs, record & label discs.
Print DICOM data fields: sample
One screen simple UI allows defining burner-printer settings. Visualize incoming studies, job queues, and the disc publishing process.