DicomBurn Publisher application is an fully automated DICOM CD Burning & Labelling solution. DicomBurn can be installed in PACS workstations and standard office PCs along with Primera or Epson disc printing robots. DicomBurn prints customized labels for patient name, ID, study date, study description, modality, facility name and logo etc.
What are the DICOM CD publishing robots
Primera Disc Publishers and Epson Discproducers Robots are like regular paper printers but they burn and print on CD/DVDs. It doesn't cost a fortune to purchase these burner printers. Prices vary by countries - a quick search online or local disc publisher dealers can put up quotations for these units.
DicomBurn doesn't force users to purchase particular private labelled hardware. DicomBurn provides option to choose different disc producer models in your budget, that you may already have or willing to purchase. DicomBurn integrates most models of Primera and Epson disc publisher robots.
Centralized Imaging Disc Publishing System
Print Medical Discs across DICOM Imaging networks. Send studies to DicomBurn from PACS systems, Imaging Hardware/Modality, Worklist Servers (MWL), whereas DicomBurn automatically gathers the data for CD burning and label printing. All in-house or distributed PACS workstations in an Imaging facility can send studies to a single DicomBurn Server; and Primera Disc Printers single drive model (such as #4101), or duel drive model (such as #4102), Epson Disc Producers such as PP-100 II can be attached to that central PC for a completely operator-less, centralized CD Burning and automated labelling.
Integrated DICOM Query/Retrieve Module
DICOM Q/R panel allows radiologists to stay put and search studies in the PACS/modality machines. Drill-down to a study - to see Series, and Series to instances.
Auto Import DICOM files from a DICOM DropBox
A predefined DropBox folder can be located at a local or networked location. DicomBurn shall monitor the folder for new DICOM archives. If found, DicomBurn shall auto import, and burn the studies to Patient CDs.
Publish existing DICOM viewers
DicomBurn makes it very easy to burn DICOM viewers. Your favorite DICOM viewers can be added to the DicomBurn viewers repository just by copying in the new viewer folder. DicomBurn will recognize the new viewer, and make it available during the burning process. DicomBurn automatically creates a compliant DICOM Directory.
DICOM CD Labelling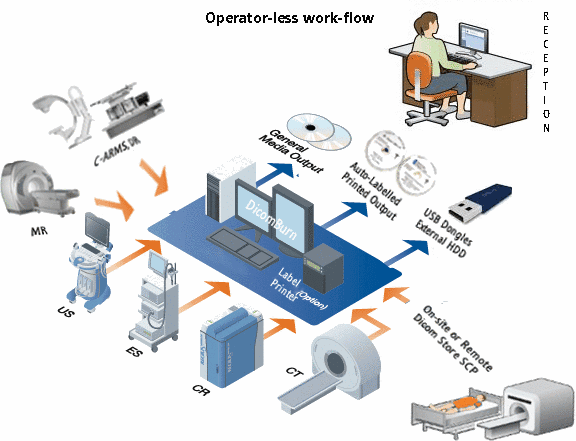 Rule based disc selection
For both Epson and Primera disc publishers, DicomBurn can dynamically pick CDs or DVDs/DVD-DLs based on study sizes. DICOM disc rule option allows specifying certain size limits for burning on Bin1 or Bin2 in dual drive publisher models.
DICOM CD Publisher System Requirements

- Windows 8, 8.1, 10
- 32 bit or 64 bit OS
- 1 GB memory
- 2 GB disk space (based on study size)
- Epson or Primera CD Label Printer